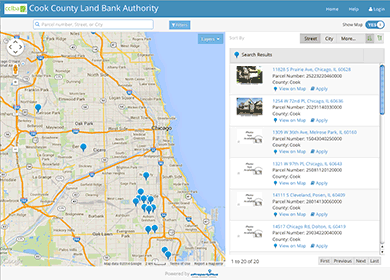 CCLBA PROPERTY INVENTORY
---
The CCLBA's current inventory includes properties that are owned or will soon be acquired by the Cook County Land Bank Authority. Clicking the view property button below will take you to our ePropertyPlus website, where we include property information, online application forms, and all other property-related information.
To apply for a specific property or properties, you will need to register with the ePropertyPlus system. If you are interested to know the rules for acquiring property from the CCLBA, please download the CCLBA Land Transactions Policy attached below. If you are interested in being pre-qualified as a property acquirer, you can also complete and submit a Pre-Qualification Form for Potential Property Acquirers.

CCLBA Land Transactions Policy
SOUTH SUBURBAN LAND BANK & DEVELOPMENT AUTHORITY (SSLBDA)
---
The South Suburban Land Bank and Development Authority (SSLBDA) was formed in 2012 with an intergovernmental agreement passed by the Village of Park Forest, City of Oak Forest and City of Blue Island. The land bank was made possible by a HUD Sustainable Communities Grant awarded to the South Suburban Mayors and Managers Association in 2011. The South Suburban Mayors & Managers Association (SSMMA) helped establish and provide technical assistance for the SSLBDA. Current members of the SSLBDA include Blue Island, Oak Forest, Park Forest, Richton Park, Sauk Village, Midlothian, Hazel Crest, Phoenix, Summit, Dolton, Joliet, Steger, Chicago Heights, and Ford Heights.