VIEW HOMEBUYER HOMES
---
Please click the respective link below to browse all properties eligible for the Homebuyer Direct Program (before clicking, please scroll down for instructions on how to view homeowner homes in our portal).  To view a complete list of all properties offered by the CCLBA, which includes properties outside of the Homebuyer Direct program, please navigate to the Interactive Property Viewer.
INSTRUCTIONS FOR VIEWING HOMEBUYER HOMES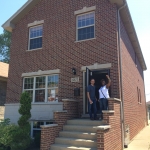 1. Navigate to our Interactive Property Viewer to view all CCLBA properties currently available.
2. Click on the, 'Filters' tab located at the top of the map.
3.  Navigate to the, 'Inventory Type' category and select, 'Residential Home – Homebuyer' to view all properties eligible for the Homebuyer Direct Program.  You are able to filter further by municipality, ward, and neighborhood if so desired.
4. If you are interested in any of the properties that pop up, please apply by clicking on that respective property and clicking, 'Apply' on the top right corner of the screen.  At that point, you will be prompted to create an account, which is required before applying for a property/parcel.
Once submitted, a CCLBA representative will respond to your application within five (5) business days. You can view the status of all applications by logging in to your personal account.  Please don't hesitate to apply today!
If you are interested to know the rules for acquiring property from the CCLBA, please download the CCLBA Land Transactions Policy attached below. If you are interested in being pre-qualified as a property acquirer, you can also complete and submit a Pre-Qualification Form for Potential Property Acquirers.

 CCLBA Land Transactions Policy